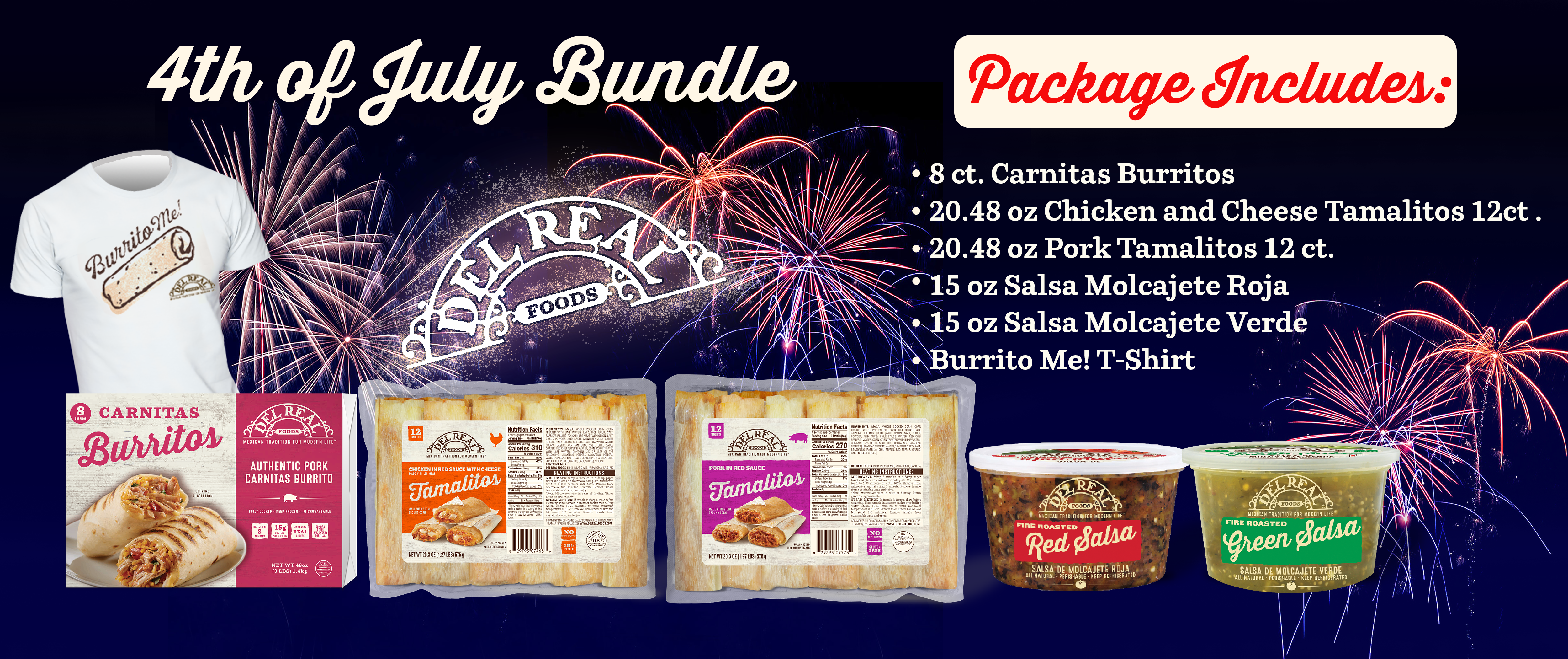 The 4th of July is almost here, and Del Real Foods wants to make sure you have everything you need for the perfect celebration! Here are the top 4 must-haves for a flavorful, fun-filled day.
Del Real's 4th of July Bundle
Our new 4th of July Bundle features all Del Real's new Carnitas Burritos, Pork Tamalitos, and Chicken Tamalitos, and our delicious Salsa de Molcajete Roja and Salsa de Molcajete Verde. Fire up the grill and warm these delectable hand-held treats the entire family will love, and serve with our Arroz con Vegetales, Frijoles Refritos, chips, and homemade guacamole.
Tasty Menu Items
Make your 4th of July gathering even more memorable with a menu featuring quick and easy dishes full of authentic Mexican flavors. This Chicken Bacon Ranch Taco blends Del Real's zesty Pollo Asado, savory bacon, crisped shredded cheese, and creamy ranch dressing to create an amazing taco!
For something sweet and unexpected, try this Spicy Peaches & Cream Cinnamon Sopes recipe. Summertime is perfect for juicy, ripe peaches, and this dessert that features our Salsa de Molcajete Roja, cinnamon, and cream cheese will have your guests coming back for seconds.
Get even more 4th of July menu inspiration here!
Ice Cold Beverages
Beat the 4th of July heat with a variety of refreshing ice-cold beverages. For a festive backyard set up, fill your favorite decorative bucket or cooler with ice and arrange bottled water, iced tea, and lemonade or non-alcoholic punches for guests to enjoy throughout the day.
And of course, you can't forget margaritas! Whether homemade or poured from the pre-made mix of your choice, you can't go wrong. Sangrias and a selection of beers also make a great addition to your 4th of July beverage options.
4th of July Decorations
Of course, it's not a true 4th of July celebration without decorations! Set out miniature American flags, red, white, and blue star-shaped confetti, and centerpieces with red, white, and blue streamers, or go for something a bit less traditional like flowers and summer-themed tablecloths and serveware.
Make Del Real Foods part of your 4th of July celebration! Stock up on all your favorites. Del Real Foods, Mexican Tradition for Modern Life.
---