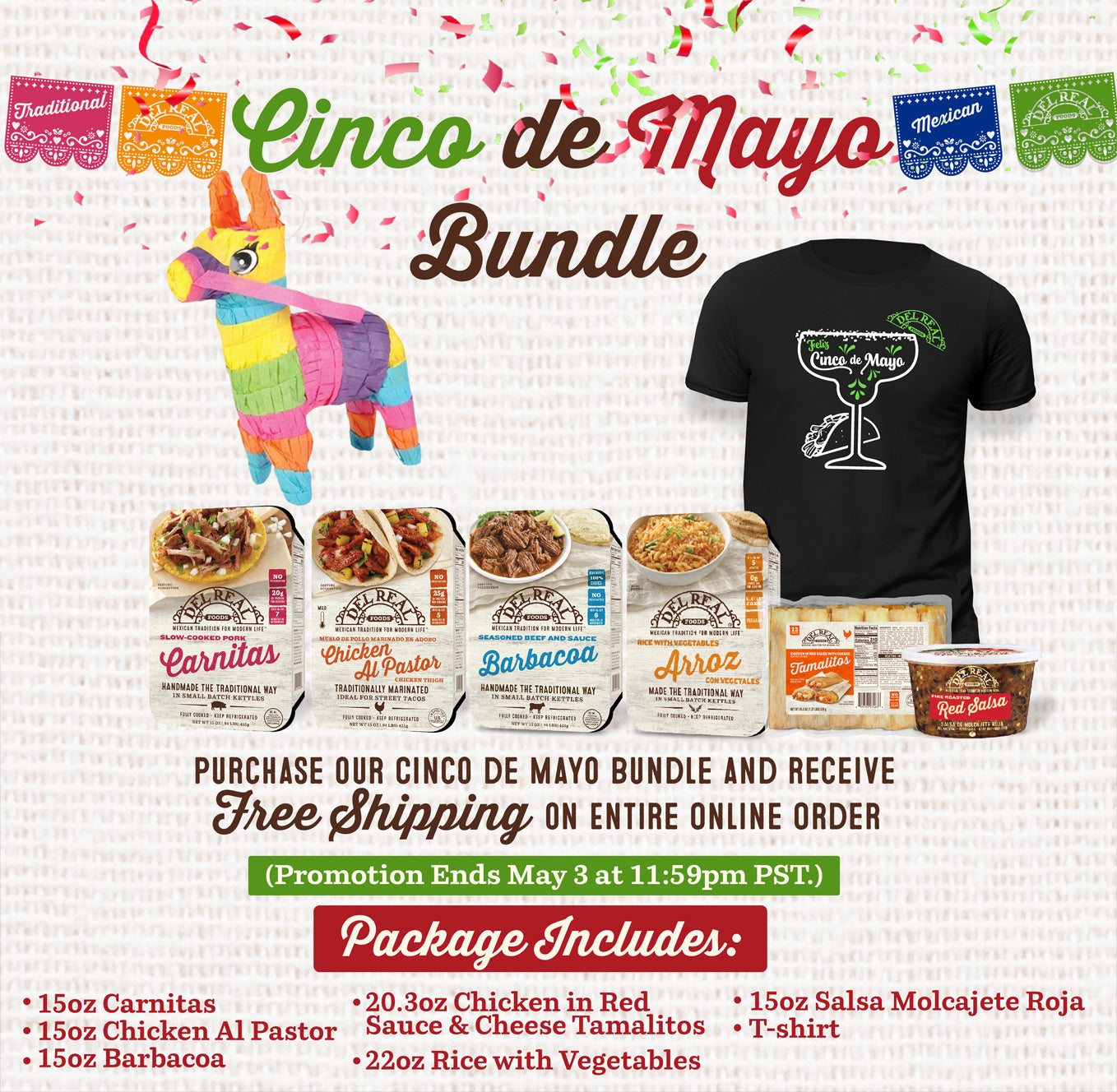 Cinco de Mayo is right around the corner, so now's the time to get plans for this year's celebration underway! Del Real's new Cinco de Mayo Bundle has everything you need for a delicious meal, and features our classic Carnitas, Barbacoa,Chicken Al Pastor, Arroz con Vegetales, Chicken in Red Sauce and Cheese Tamalitos, and mouth watering Salsa de Molcajete Roja. The bundle also includes an exclusive Cinco de Mayo t-shirt, perfect for your festivities!
Tasty Bites
Treat yourself and your family to the most flavorful Cinco de Mayo ever with simple, delectable dishes. Start with Al Pastor Nachos, which combine Chicken Al Pastor with melty cheese, tomatoes, guacamole, and sour cream, and for an appetizer with a little kick, try Tamale Stuffed Jalapeños with Tamalitos and bacon.
Take your celebration to the next level with Carnitas Tacos topped with cilantro, white onion, and Salsa de Molcajete Roja. Or create your own Barbacoa Burrito or burrito bowl with Del Real's Frijoles Refritos for a savory and satisfying meal.
Add a little tropical flavor to your Cinco de Mayo menu with Hawaiian Chicken Skewers, featuring Pollo Asado and fresh vegetables.
Refreshing Beverages
No Cinco de Mayo celebration is complete without refreshing, festive beverages. Be sure to include family-friendly favorites like sweet and tangy lemonade, fresh-brewed iced tea, or thirst-quenching soft drinks that everyone can enjoy. Fill a large bowl or cooler with ice for beer and wine, and set out a pitcher of margaritas to complete your Cinco de Mayo table.
Decoration Inspiration
Whether you're hosting your Cinco de Mayo party inside your home, in your backyard, or on Zoom, you'll want to make your space fun and festive! Balloons, large paper flowers, and streamers are perfect for bringing bright colors and a celebratory feel in-person or virtually. Select colorful plates, cups, utensils, and napkins to add even more flare to your table, and don't forget to queue up your favorite playlist of music to set the mood.
Order your Cinco de Mayo Bundle today and receive free shipping and an exclusive Del Real Cinco de Mayo t-shirt! Offer is good until 11:59PM PDT 5/3.
---