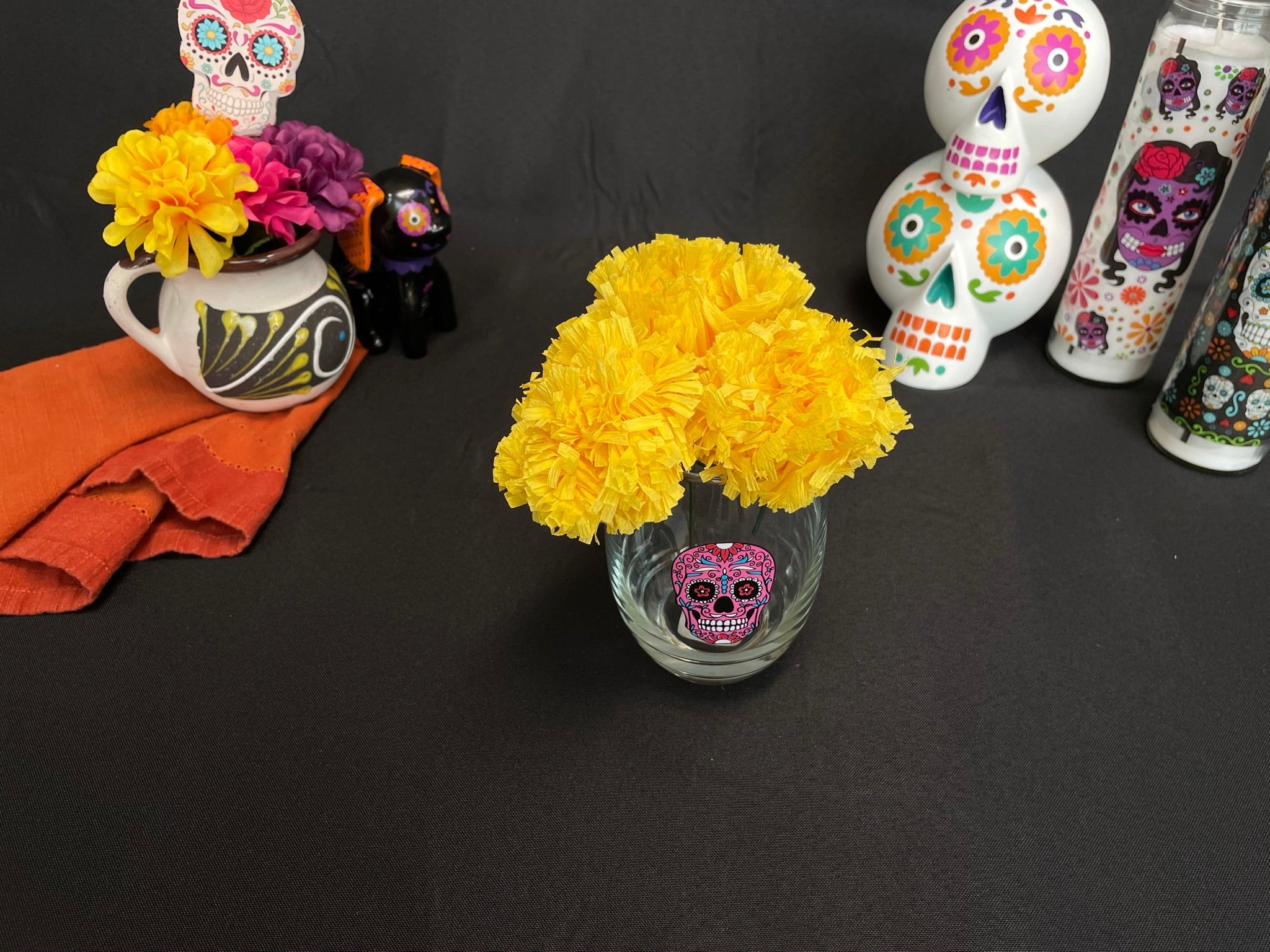 Materials you will need to make your Paper Marigold Flowers!
Yellow or Orange Streamers
Floral Wire
Hot Glue Gun
Floral Tape
Scissors (Normal or 5 Blade)
Fishing Line
Wire Cutters
Sewing Needle
First, measure out 10 inches of streamer.
Make small cuts down the streamer. Only cut half-way down the side of the steamer.
Cut a 3-inch piece of floral wire, or longer depending on where you would like to place your flower. Add a dot of hot glue to the end of the wire and attach to the 10-inch streamer.
Roll the streamer at the top of the floral wire to make the center of your flower.
Add a dot of hot glue at the end of the streamer so it does not come un-done. Use the floral tape to cover the exposed floral wire and the bottom of the streamer where the hot glue is. The floral tape is not necessary but is a nice finishing touch.
Cut a 6-foot-long piece of yellow streamer. Fold the streamer accordion style to make it easier to cut.
Make small cuts on both sides of the folded streamer. These cuts should only go a fourth of the way into the streamer.
Cut a piece of fishing line that is about 12 inches long. Thread your needle and tape the opposite end of the fishing wire to the table. Unfold your cut streamer, starting at one end, move the needle in and out of the streamer so it creates a tight accordion or fan look.
Work your way through the entire streamer until all of it is on the fishing line.
Scrunch the streamer together. Twist the streamer so it is spiraled on the fishing line. This is a very important step. If the streamer is not spiraled, then your final flower will not look like a marigold.
Tie the ends of the fishing line together to make a donut shape.
Add a little hot glue on the center of the flower and place in spiraled streamer donut.
Recreate until you have as many marigolds as you need for a center piece, flower crown, or Ofrenda.
Show us your Paper Marigold creations: @delrealfoods
---